EF 24-105 mm F4 L IS USM
Awesome! This is my new "always on" lens, ever since I got it with the new 5D mk II camera. Although it's not exactly small or light, it's still very nice to work with and the image quality is superb. No stopping down from F/4 is ever required for sharpness, unless you want some extra depth of field. The third generation image stabilizer (IS) seems to be very good. I've got really sharp shots even at 1/6 sec exposure hand held (at wide angle), very impressive. And very useful when shooting non moving scenes in low light. The build and feel of the lens is as good as it gets (from my own experience), as to be expected from a Canon "L" lens.
On the downside, if it's at all feasible to mention considering how good this lens is, there is apparent vignetting all over the focal length range, strong at 24 mm. I don't mind this that much, because I kind of like vignetting anyway, but if you are cropping the images a lot (and off center) you risk having the right corners ending up darken than those on the left side for instance. This can of course be corrected with software pretty easily. Stopping down to F/5,6 helps a lot too.
Also, I feel that chromatic aberration is strong enough (at wide angles) that you have to treat it during the post processing. Which is quickly done, but still. I guess the huge 21 megapixel resolution I'm working with now emphasizes this (and you pretty much have to zoom 1:1 to see it at all).
Overall, I'm totally in love with this lens, and I can only concur with Bryan Carnathan (The Digital Picture) in saying: "If I had only one lens, this would be the one".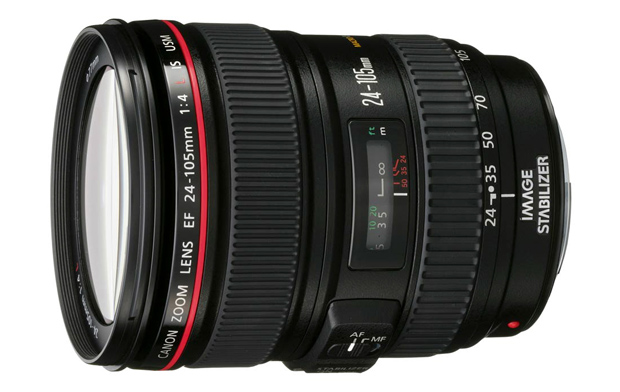 Segment: Canon pro series
Type: 24-105 mm zoom lens
Drive: Ultrasonic + Stabilizer
Speed: F4,0
Length: 107 mm
Weight: 670 g
Review at The Digital Picture
Opinions at Fred-Miranda
Description at Wikipedia
Sample pictures

Relink back to
self
(work in progress)